---
Home
---
---
Tennessee Valley Trail (red markers) :
---
Stop: # 1 Waterloo
Edith Newman Culver Memorial Museum: 501 Main street. Waterloo, Alabama
Museum is headquartered in a two-story frame house built in 1872 in a traditional T-shape with three chimneys, six fireplaces. The house is filled with antiques, Civil War relics, Native American artifacts, military displays. Open Friday-Sunday afternoons, hours may increase in the summer. Senior, group and student rates offered, under 5 yrs admitted free.
Stop: # 2 Florence
Pope's Tavern Museum: 203 Hermitage Drive. Florence, Alabama
Once a stagecoach stop, tavern, and inn where Andrew Jackson stopped overnight en route to the Battle of New Orleans. Pope's Tavern is one of Florence's oldest structures. It served as a hospital for both Confederate and Union forces during the War Between the States. Later home to the Lambeth family, it remained a private residence until purchased by Florence in 1965 to preserve and showcase the city's history. The museum is operated for the purpose of displaying, teaching, and interpreting the cultural history of Florence and the Shoals area.
Stop: # 3 Hillsboro
Pondsprings: 12280 Alabama Hwy. 20 Hillsboro, Alabama
The historic home of Confederate General "Fighting Joe" Wheeler was built in north Alabama following the Civil war. The site is on 50 acres, and has 13 historic buildings. The Wheeler Home Museum is filled with family furnishings and artifacts.
Stop: # 4 Decatur
Civil War Walking Trail - 719 6th Ave. SE, Decatur, Alabama
Confederate General hood in the fierce four day 1864 Battle of Decatur attempted to cross the Tennessee River to cut off the Union supply lines in Nashville. The 14th U.S. colored troops Infantry charged the Confederates line at noon on October 28 Hood Removed his troops and moved West..
The Old State Bank - 925 Bank Street, Decatur, Alabama
Pre-Greek Revival structure is oldest bank in state. Used as hospital during Civil War, one of only 4 buildings left standing when war ended.
Stop: # 5 Athens -
The City of Athens was burned and looted by the Union troops in a raid by Colonel Turchin in May 1862. The 1st. Alabama Cavalry failed in its attempt to take Athens from the Union holding the city in Jan. 26, 1864, Battle of Athens. (Historic Marker and Monuments)
Stop: # 6 Huntsville
Historic Huntsville Depot -320 Church Street Huntsville, Alabama
Climb on locomotives, examine Civil War graffiti, and listen as robotic ticket agents tell about working for railroad. Exciting hands-on programs available.
Stop: # 7 Stevenson
Stevenson Rail Road Depot Museum - Main Street Stevenson, Alabama
In 1861 , Stevenson was a vital rail link to major points throughout the southeast. Union Gen. Rosecran's forces constructed a pontoon bridge across the Tennessee River Stevenson in 1863, allowing thousands of Union troops across the river and advance on the battlefield at chickamauga.
Extra Stop:
Bridgeport - The three earthen redoubts along with their connecting entrenchments, were part of an original ten constructed in 1863 by Confederate troops using slave labor in preparation for the defense of Bridgeport. Later that same year Union soldiers took over the fortifications and improved them to protect their major supply base at Bridgeport that served them during the Battles of Chickamauga and Chattanooga. Over the last century six of the ten fortifications have been destroyed, and the three Bridgeport examples lie in the midst of an area already partially developed by industry.
---
Streight's Raid Trail (blue markers) :
---
Stop: # 1 Double Springs
Looneys Entertainment - Musical drama telling story of north Alabama hill people caught between opposing forces during Civil War. Indoor theatre, restaurant, miniature golf, gift shop and riverboat.
Stop: # 2 Gadsden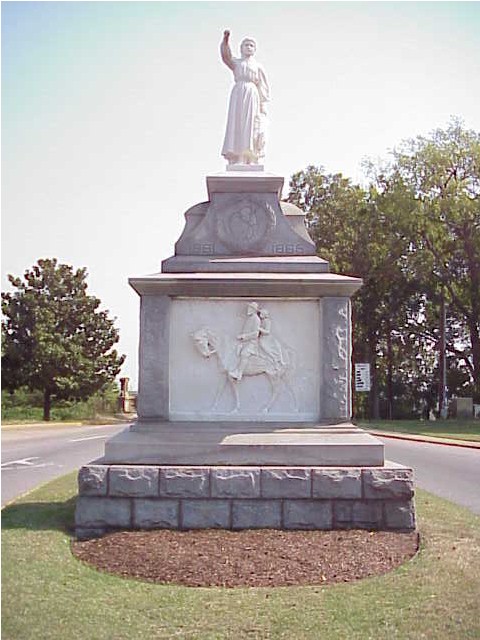 Emma Sansom Monument - Under Gunfire, teenage heroine Emma Sansom guided Gen. Forrest's troops across Black Creek near Gadsden om may 2, 1863. The Following day, Confederate forces captured Union Col. Stright and his entire command of 1,466 men near Cedar Bluff. Stop: # 3 Ohatchee
Janney Furnace - July 1864 Ohatchee's location on the bank of the Coosa River led to a minor role in the Civil War, The confederates hoped to use Janney Furnace, built just north of Ohatchee, to provide pig iron for the south. But a 2,300 man Calvary force under Union Gen. Lovell H. Rosseau advanced to Calhoun County in July 1864 and knocked the furnace out of commission.

Janney furnace had been built by Montgomery manufacturer, Alfred Janney, in mid-1863. He was in the area buying iron ore for another of his furnaces when he noticed brown ore on the ground under a ridge about a mile north of Ohatchee. There is much speculation as to whether Janney Furnace was ever operational. None of the sandstone lining the circular chimney is blackened from smoke, which should be the case of a functional furnace. The furnace was constructed with the labor of about 200 slaves, with sandstone for construction quarried in the area. Janney shipped equipment and machinery from his furnace in Montgomery to be used at the site. After Union soldiers burned workers' shacks and demolished about 25 feet of the brick chimney that capped the stone furnace, construction was resumed, but was not completed by the end of the Civil War. Janney sold the land and returned to Montgomery, and the machinery that remained rusting around the furnace was sold for scrap.

Stop: # 4 Anniston
Anniston/Calhoun County LibraryAlabama Room and Anniston Room - Fine collection of genealogical research records, Civil War records, etc. Anniston Room is collection of local memorabilia. Stop: # 5 Jacksonville
The Gallant Pelham Statue - Located in Jacksonville City Cemetery. John Pelham, Civil War hero, was dubbed "The Gallant Pelham" by Robert E. Lee. Stop: # 6 Ceadar Bluff

Cornwall Furnace - Commissioned in 1863 by the Noble Brothers of Rome, Georgia and named for their native Cornwall, England home, this cold blast furnace furnished iron for the first cannon made in Rome, Georgia. Cornwall Furnace is the best preserved furnace built by the Confederate States of America. In 1862, the 35-foot high furnace became the first to supply ore for the construction of Confederate cannons during the Civil War. It took a thousand men seven months to construct the furnace using limestone from the nearby Coosa River. Though General Sherman twice ordered the furnace destroyed in 1864, it still stands in its original location. Passing through Cedar Bluff, one can easily understand the origins of the town's name. Cedars still grow through- out the area, many on bluffs overlooking Weiss Lake. Cedar Bluff's history is filled with visits from well-known figures, from Spanish explorer Fernando DeSoto in the 1500's to Confederate General Nathan Bedford Forrest during the Civil War. Cornwall Furnace, built to supply ore for the Confederate army, still stands today. Extra Stop:
Centre: Cherokee County Historical Museum - Cherokee County's heritage is depicted with local newspapers, shotguns, wagons, housewares,telephones, 50-year-old doll collection and memorabilia of Grand Ole Opry comedian Rod Brasfield. Civil War, WWI, WWII and railroad artifacts. Steele: Horse Pens 40 - 120 scenic acres of historical Civil War and Native American homelands, unusual rock formations, festivals, pow wows, Native American arts and crafts, bluegrass music. Weddings, hiking, camping, reunions, museum, historical rocks, Tomato Jubilee. Elevation 1491. Cullman County - When most people think of Cullman County's history, it is only natural that they remember the founding of the City of Cullman in 1873 by German expatriate Colonel John G. Cullmann. Many people do not realize, however, that another colonel played a big part in Cullman County's past as well.

Ten years prior to the founding of Cullman, America was at war. Union loyalists and Confederate secessionists were meeting on the field of battle to decide whether or not the country would continue as one or be broken in half over such issues as the rights of states and slave ownership. Following a major conflict in middle Tennessee, Union Col. Abel D. Streight of the 51st Indiana Infantry decided to make a daring raid that would lead his men across North Alabama and into Georgia with the intention of cutting the Western Atlantic Railroad that supplied Confederate Gen. Braxton Bragg's army.

On his way from Memphis, Tennessee, to Rome, Georgia, Streight was met by the famous Confederate Gen. Nathan B. Forrest, who engaged the Union leader in a number of battles, ultimately leading to Streight's surrender and imprisonment. Several of these conflicts, the Battle of Days Gap and the Battle of Hog Moutain, took place in what was to become Cullman County.

According to Streight's account of the journey, written one year after the raid, the colonel and his command left Moulton, Alabama, on April 28, 1863, headed towards Blountsville via Day's Gap. He wrote:

"We marched the next day (the 29th) to Day's Gap, about 35 miles, and bivouacked for the night … we were now in the midst of devoted Union people. Many of Captain Smith's men (Alabamians) were recruited near this place, and many were the happy greetings between them and their friends and relations."

The next morning, Streight's men came under attack roughly two miles from their campsite. According to local Civil War Historian Dan Fullenwider, several members of Streight's rear guard were still clearing the campsite and finishing breakfast when the men of Captain William Forrest, Gen. Forrest's brother, attacked.

"From that point on, it was a running battle," Fullenwider said. "[General] Forrest caught up with Col. Streight and his men and had set up camp that night within sight of Streight's campfires. If Streight had ever just turned and fought Forrest head on, he probably would've won, as he heavily outnumbered the Confederates. But, he kept on riding, occasionally stopping and setting up a battle line, such as at Day's Gap and at Hog Mountain. Several other skirmishes occurred throughout the county whenever the two leaders met."

As the fighting began, Streight's men took up a defensive position between a ravine and a swampy area, hopefully to prevent their being flanked by the Confederates. Streight wrote:

"The country was open, sand ridges, very thinly wooded and afforded fine defensive positions … we dismounted and formed a line of battle on a ridge circling to the rear. Our right rested on a precipitous ravine and the left was protected by a marshy run that was easily held against the enemy. The mules were sent into a ravine to the rear of our right, where they were protected from our enemy's bullets."

The Battle of Day's Gap lasted approximately five hours, from 6 a.m. on April 30th until about 11 a.m., leaving 23 Union soldiers dead and Confederate casualties numbering 65. One account, handed down by the family of Confederate soldier Pvt. Williams J. Ledbetter of the 4th Alabama Cavalry, states that the limestone rock in the area was so close to the surface that the Confederates could not bury their dead but instead were forced to roll their bodies into a steep ravine before following Streight south.

Following the Battle of Day's Gap, Streight's men proceeded south toward Blountsville but were again met by Forrest's brigade. Streight wrote:

"We were not too soon in our movements, for the column had hardly passed a cross-road, some six miles from our first battle-ground, when the enemy were discovered advancing on our left. Sharp skirmishing commenced at Crooked Creek, which is about 10 miles south of Day's Gap, and finally the enemy pressed our rear so hard that I was compelled to prepare for battle. I selected a strong position, about one mile south of the crossing of the creek, on a ridge called Hog Mountain. The whole force soon became engaged (about one hour before dark) … fighting continued until about 10 p.m., when the enemy were driven from our front, leaving a large number of killed and wounded on the field. I determined at once to resume our march, and as soon as possible, we moved out."

Forrest's relentless pursuit of Streight led the Union commander to attempt an ambush in an area now known as the Bethsadia Community. The 73rd Indiana Infantry, under the command of a Col. Hathaway, were serving as Streight's rear guard. Streight wrote:

"The moon shone very brightly, and the country was an open woodland, with an occasional spot of thick undergrowth. In one of these thickets I placed the Seventy-third Indiana, lying down, and not more than 20 paces from the road, which was in plain view. The enemy approached. The head of his column passed without discovering our position. At this moment, the whole regiment opened a most destructive fire, causing a complete stampede of the enemy."

Following the Hathaway ambush, Streight again attempted to surprise Forrest's men, attacking them near Ryan's Creek. Streight had little to say of this ambush, save to note that it was the last conflict in Cullman County. Fighting again resumed in neighboring Blount County, when Forrest's men caught up with Streight in the town of Blountsville. Streight had this to say of the Ryan's Creek ambush:

"We were not again disturbed until we had marched several miles, when they attacked out rear guard vigorously. I again succeeded in ambuscading them, which caused them to give up pursuit for the night. We continued our march and reached Blountsville about 10 o'clock in the morning."

Streight's raid continued through Alabama until he finally reached his destination at Rome, Georgia and was forced to surrender by Gen. Forrest, his entire command of 1,500 men captured. Although ultimately defeated, his daring raid unsuccessful, Streight was counted the victor in both of the major confrontations with Forrest in Cullman County. According to Dan Fullenwider, Forrest lost two of his favorite cannon at the Battle of Day's Gap, both of which were prizes he had himself captured earlier in a conflict in Murphreesboro, Tennessee. According to Streight's account, the ammunition captured with the two cannon was exhausted and he ordered the howitzers spiked and their carriages burned. Fullenwider notes that it is possible that the two cannon still remain buried in the Hog Mountain area as he said they were never recovered.

In addition to leaving such relics behind, both discovered and undiscovered, the skirmishes on Cullman County soil left many Alabamians dead on both sides of the conflict. Three Alabama units were listed among the companies that fought in the battles of Streight's ill-fated raid: the 53rd Alabama Cavalry Regiment (also known as the Partisan Rangers), who were attached to the 29th Alabama Infantry, CSA; the 4th Alabama Cavalry, CSA; and the 1st Alabama Cavalry, USV, which consisted of many North Alabama men from Winston and Cullman Counties who volunteered to serve the Union. The 1st Alabama Cavalry, the only cavalry unit of the six Alabama regiments, was also the only such unit to contain both black and white soldiers. Hailed by Maj. Gen. John Logan, a commander under Gen. Sherman, called them "The best scouts I ever saw," and as such, the 1st Alabama was chosen to be the general's personal escort on his famous (and infamous) march to the sea
---
Ironworks Trail (brown markers) :
---

Stop: # 1 Tuscaloosa
Gorgas House - Built 1829; oldest building on campus. Occupied by Gorgas family members 1879–1953. One of 4 buildings to survive Civil War. Now a house museum with 19th-century furnishings. Stop: # 2 Briefield
Brierfield Ironworks - The metal produced at the Bibb County Ironworks so impressed Confederate authorities that they purchased the facility at a forced sale in 1863. The iron made there, in the words of a contemporary ironmaster, "was the toughest and most suitable iron for making guns and above any other iron in the South." The following year, the Confederates constructed a second furnace at the site, the remains of which are visible today. This furnace, the only one in the state built solely by the Confederates, supplied iron to the Selma Arsenal for the manufacture of the Brooke cannon, the South's largest and most effective naval artillery piece.

After the Civil War, the Bibb Furnace was operated intermittently by a succession of owners, including Josiah Gorgas, the former chief of Confederate ordnance, but the facility proved unprofitable, and it was abandoned in 1894. The Bibb Furnace represents an important but short-lived transition between the stone stack furnaces like those at Tannehill Ironworks Historical State Park, and the metal-jacketed furnaces as seen at Birmingham's Sloss Furnace. Indeed, the remains of the Bibb Furnace and its ancillary buildings constitute every integral structure that served a blast furnace in the 1880s and 1890s. Nowhere else in the U.S. can this slice of time in the development of iron making be better seen.

A hundred years of weathering has taken its toll on the furnace stack. Portions have collapsed and what remains is fragile and crumbling. The Alabama Historic Ironworks Commission, the state agency directing Brierfield Park, has received an ISTEA grant to construct a cover over the stack to protect it from the cycles of rain and ice that crack and break century-old brick. Once this is accomplished, the painstaking and expensive process of stabilizing the ruin must begin. Public and private money is needed for extensive archaeological work and for preserving the foundations of the blowing engine house, hot blast stoves, casting shed, and boiler plant. Loss of these rare structures will also mean the loss of irreplaceable knowledge about iron making in the late nineteenth century.

Partially destroyed by the Union army at the end of the Civil War, Brierfield Ironworks was quickly restored after the war by its new owners. However, time and the elements have taken their toll since the the Brierfield Furnace was abandoned in 1894.

Stop: # 3 McCalla
Tannehill Iron Hsistorical State Park - 12632 Confederate Pkwy. McCallaThe Rannehill Ironworks produced upwards of 20 tons of iron each day at its height of production during the Civil war in 1864. Ther furnaces were destroyed in march 1865 raid by three companies of the Eighth Iowa Cavalry as part of Union Gen. James Wilson's attack on Alabama war industry sites. Stop: # 4 Bessemer
Bessemer Hall of History Museum - Housed in renovated Southern Railway Terminal. Contains artifacts, documents, photographs, 1800s furnishings and farm implements, Civil War collection relating to 1862 28th Alabama Regiment, antique telephone display, library. Stop: # 5 Elyton
Stop: # 6 Columbiana
Stop: # 7 Marbury Confederate Memorial Park - Site of Alabama's only home for Confederate veterans. 2 cemeteries contain 313 graves. Museum houses Civil War uniforms, weapons and equipment, plus many relics from Soldiers' Home. Walking & driving tours, nature trail, picnic areas. St. Wilfred's Episcopal Church - Cemeteries Visit the Confederate cemetery on the grounds of this church. Extra Stops:

---
Cradle of the Confederacy Trail (green markers) :
---

Stop: # 1 Marion
Marion Female Seminary - Organized in 1836. While teaching here, Nicola Marschall designed the stars and bars flag and the Confederate uniform. Stop: # 2 Selma
During the Civil War, it was one of the South's main military manufacturing centers, producing tons of supplies and munitions, and turning out Confederate warships such as the ironclad Tennessee. Union General J.H. Wilson's troops destroyed Selma's army arsenal and factories, and much of the city, in a fiery, bloody siege. To see Selma-manufactured munitions and war relics, visit the Smitherman Historic Building. Tour gracious antebellum Sturdivant Hall, a Greek Revival mansion designed by the cousin of Confederate General Robert E. Lee. Browse for antiques in restored downtown riverfront warehouses and discover hand-made treasures and other specialty items in Victorian cottage shops. Old Live Oak Cemetery Tour - Confederate Circle Monument: Notice the graves of soldiers are to the south of the monument and the cannons point toward the north, forever protecting the brave men who died for their cause. Smitherman Historic Building - Built in 1847 by Selma Masonic Order to serve as university. Also served as Confederate hospital, county courthouse and military school. Restored to original beauty. Features Lewis collection of Civil War memorabilia. Old Depot Museum - Interpretive history museum in 1891 railway depot. Artifacts from pre-history Indians through Voting Rights era. Civil War room, Black Heritage wing, military room (pre WWI–Persian Gulf). Victorian firehouse, antique rail cars. Visitors find themselves stepping back into an earlier time, when farmers used oxen to plow their fields and spinning wheels to spin their thread. Here one may inspect the records of an early plantation, or the contents of a 19th century doctor's traveling kit. A cameo of Elodie Todd Dawson, Abraham Lincoln's sister-in-law and a rabid confederate, offers a poignant reminder that the Civil War split many families asunder. Confederate bills, many printed right here in Selma, recall "the lost cause" in all its frailty. Imagine the industrial revolution experienced during the Civil War in Selma, where nearly half of the munitions used by the Confederacy was manufactured. Here was manufactured the Brooke Cannon, the most powerful muzzle loading cannon ever produced; and here the iron-clad Confederate ship Tennessee (of the Battle of Mobile Bay) was built. Shells and cannon balls, remnants of the South's largest industrial complex, may be seen and touched by visitors to the Museum. The Museum's exhibits range from items as large as a railroad boxcar to those as small as the black pins worn by the 19th century ladies in their mourning dress. They include the original land grant, issued by President James Monroe to the Selma Town and Land Company, a desk used by Alabama Governor, Benjamin Meek Miller, the china and silver used by William Rufus King as Ambassador to France, and the one-horse carriage used by a Selma millionaire to ride all the way from here to New York City during the 1840's. Here are mementoes of the men and women who helped make Selma the "Queen City of the Black Belt"...Confederate Generals like John Tyler Morgan and Edmund Winston Pettus (who later served together in the United States Senate): pioneering physicians like Dr. Albert Gallatin Mabry, who founded the Alabama Medical Association in 1847 and led the fight for mental health services; and early Black leaders such as Benjamin Sterling Turner, the ex-slave who became Selma's first Congressman during Reconstruction. Stop: # 3 Orrville
Stop: # 4 Montgomery
Alabama State Capitol - Reflects 140 years of shifting tastes in architecture and furnishings. Historic Senate Chamber, House of Representatives, old Supreme Court Chamber and original governor's office have been restored to Civil War-era appearance. Stop: # 5 Tuskegee
Stop: # 6 Tallassee
Confederate Armory - When Confederacy feared security of Richmond, VA, decision was made to relocate Richmond Carbine to old 1844 cotton mill in Tallassee. Only Confederate armory to survive Civil War.

Confederate Officers Quarters - When Confederate Armory moved to Tallassee, 3 homes were constructed on King St. by Confederate government to house officers in command. Only 2 of 3 houses remain, now used as offices.

Rose Hill Cemetery Historic Grave Site - Remains of Indian trader Barent Dubose, believed to be Tallassee's 1st settler, and William Parker, body servant to Andrew Jackson during War of 1812, buried here. Graves of other Confederate veterans also located here.

Stop: # 7 Lanett
Fort Tyler - Located on Alabama-Georgia border, was site of one of last Civil War battles (April 16, 1865) to take place east of Mississippi. Stop: # 8 Eufaula
Historic Shorter Cemetery - Civil War-era cemetery. Burial site of Alabama Civil War Governor John Gill Shorter, his family & family slaves. Stop: # 9 Union Springs
Log Cabin Museum and Confederate Cemetery - Cemeteries, antebellum Visit 1850 log cabin where tour is given by descendant of original owner. Cemetery includes Union and Confederate soldiers. Stop: # 10 Ozark
Confederate Soldier - Dedicated to memory of Dale Co. Confederate soldiers who fought in War Between the States (1861–1865). Erected in 1903 by Stonewall Chapter of the UDC. Stop: # 11 Newton
Newton Civil War Monument - Stone marker is reminder of the only Civil War action in Wiregrass area. It occurred in Skipperville in 1864, and Newton 1 month before the war ended in 1865.
---
Last Battle Trail (Orange markers) :
---

Stop: # 1 Dauphin Island
Historic Fort Gaines - Pre-Civil War fort, site of Battle of Mobile Bay: "Damn the torpedoes, full speed ahead!" Touch cannons actually used in battle. Tunnels, blacksmith shop, kitchen, bakery, bastions,etc. Museum gift shop. Living history weekends. Stop: # 2 Mobile
The Museum of Mobile, - Explore periods of Mobile's fascinating history—colonization, Civil War, 19th and 20th centuries. Special collections and changing galleries. Stop: # 3 Spanish Fort
Historic Blakeley State Park - Site of last major battle of Civil War. Excellently preserved battlefield. 15 mi./24.14 km of nature trails. Bike & horse paths. 3800 acres. Stop: # 4 Gulf Shores
Fort Morgan State Historic Site - Construction began 1819, completed 1834. Large brick fort saw service in Civil War, Spanish-American War and World Wars I & II. On-site museum details fort's history.