Columbia
Welcome aboard our virtual tour bus. Make yourselves comfortable, sit back and enjoy the beautiful scenery of Middle Tennessee while I take you on a virtual Civil War tour of the 1864 Tennessee Campaign. Our tour will begin in the small but quaint town of Mt. Pleasant, Tennessee. We'll be traveling on Columbia Pike, following the same route of the Confederate army, The Army of Tennessee, in late November of 1864. Keep in mind, while today is a picture perfect summer day, frigid temperatures and snow met the Confederate Army when it crossed the Tennessee River in 1864.
After losing Atlanta to Sherman, General John Bell Hood's army of 32,000 planned to push into Tennessee with thoughts of recapturing the Union occupied city of Nashville. Hood's original intentions were to draw Sherman out of Atlanta where the Confederates could fight their enemy on ground of their choosing. But Sherman elected to march to the sea and sent Maj. Gen. George H. Thomas, commanding The Army of the Tennessee (not to be confused with the CSA Army of Tenn), to organize forces in Middle Tennessee in case Hood should attempt to invade it and to capture Forrest, who was raiding in parts of the state. Thomas was unsuccessful in the latter, as Forrest joined up with Hood's army in mid-November to participate in this campaign. Thomas, who was headquartered at Nashville, ordered his subordinate, Maj. Gen. John M. Schofield, who had 25,000 men stationed in Pulaski, Tennessee, to stop the Confederates from advancing should they cross the Tennessee river. On November 25th, it became a race between Schofield's army and Hood's army to see who could reach Columbia first. Schofield made it just a few hours ahead of Forrest's Cavalry.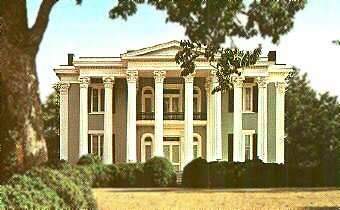 Rattle and Snap
Rattle and Snap, a magnificent plantation house 7.5 miles west of Columbia on Hwy. 43 in Maury County, is often called the finest existing example of Greek Revival architecture in the South. The estate's lengthy carriage way leads to the front facade with its ten imposing wooden Corinthian columns and iron capitals shipped from Cincinnati. It is said that during the War Between the States the owner hid his silverware from Yankee looters inside the hollow 26-feet-tall columns.
On the east face is an elaborate, delicate wrought-iron portico. Off the west face are the flower gardens. The mansion features three spiral staircases and two large dining rooms separated by pocket doors.
Included in the home is a small museum of Civil War-era artifacts and photos of the renovation process.
Col. William Polk, a North Carolinian with vast Tennessee land holdings, won the 5,648 acres on which the plantation is situated in a game of chance, played with beans, called rattle and snap. He divided the land among his sons, who built four magnificent mansions: George built Rattle & Snap; Lucius built Hamilton Place; Rufus built Westwood; and Leonidas built Ashwood. Where the properties joined, the brothers built St. John's Episcopal Church, where all but Leonidas are buried. Today, only Rattle & Snap, Hamilton Place, and the church still stand.
In 1862, Union troops were ready to burn down the mansion when an officer noticed a painting of George Polk wearing a Masonic ring. Knowing his superior, Gen. Don Carlos Buell, to be a Mason, he spared the structure and reported to his boss. Buell stated that he could not order the destruction of the home of a fellow Mason. Rattle and Snap was saved.
At one time, the house fell into disrepair and was actually used as a livestock barn. Renovation was begun by Mr. and Mrs. Oliver Babcock in 1953, and continued by Mr. and Mrs. William B. Allen in 1972.
The National Historic Landmark (1973) is currently owned by Amon Carter Evans, who has painstakingly restored the mansion to its original splendor.
Today, Rattle & Snap is also a catering facility, with luncheons and suppers served on the veranda, weather permitting and by advance reservation.
Details: Rattle & Snap Plantation
Rt. 1, Box 130, 1522 N. Main St.,
Columbia, TN 38401
The House is Open to the Public By Appointment Only
Call (931) 379-1700 for more tours & information.
The current owners are Michael And Bobby Kaslow.
Directions: From I-65 South, exit to Hwy. 412 west (Exit 46) and continue straight onto Hwy. 43.
Proceed for 12 miles to junction with Hwy. 243, turn left, proceed for 1.5 miles, watch for sign and driveway on the right.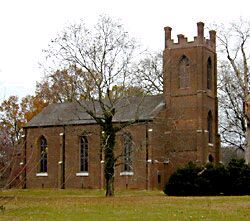 St. John's Episcopal Church:
Consecrated on Sept. 4, 1842, by James Hervey Otey, first Episcopal Bishop of Tennessee, this church was built by Leonidas Polk, then Missionary Bishop of the Southwest and his three brothers, George, Lucius, and Rufus, who divided a grant received from their father, Col. William Polk, of North Carolina.
Bishop Polk later served as a general in the Confederate Army of Tennessee and was killed in action in Georgia in 1864. On his march northward with Gen. Hood late in 1864, Gen. Patrick Cleburne passed the church and cemetery and remarked, "It is almost worth dying for, to be buried in such a beautiful spot." It is said to have reminded him of his boyhood church back in Ireland. Several days later Gen. Cleburne was killed at Franklin and was temporarily buried at St. John's.
The burial ground behind the church contains many members of the Polk family and all but one of the deceased Bishops of Tennessee.
The only memorial services are held here on Whitsunday. Annual one-day pilgrimages were initiated in 1921 on The Day of Pentecost. Services are held in the church, followed by picnic on the grounds.
Details:
St. John's Episcopal Church
Hwy. 243, Mt. Pleasant, TN
Church closed, but grounds and cemetery open to public. Historical marker.
Directions: From I-65 South, exit to Hwy. 412 west and continue straight onto Hwy. 43. At
junction with Hwy. 243, turn left and proceed to Zion Rd. Church located on right just past intersection.
Source: Maury County Convention and Visitors Bureau
8 Public Square, Columbia, TN 38401
Call (888) 852-1860 or (931) 381-7176
Email to maurycvb@usit.net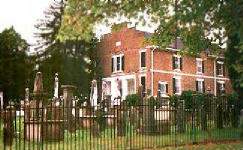 Zion Presbyterian:

Oldest active congregation in Maury County: The current brick church was built in 1849, replacing earlier churches built in 1813 and 1807. The first church was built by settlers moving here from South Carolina. The cemetery is one of the oldest, if not the oldest, in the county. It contains the remains of 11 Revolutionary War veterans, three Mexican War veterans, and 47 Civil War veterans, including Sam Watkins, a Confederate infantryman who wrote the famous book "Company Aytch." He died in the church;s old parsonage in 1901.

Details: Zion Church is located at Zion Road and Old Zion Road about seven miles north of the Mt. Pleasant Pike (Hwy. 43) intersection.

Hamilton Place:

First of the great Polk homes: Hamilton Place was built in 1832 as the first of the great Polk homes built on the Rattle and Snap tract. Currently it is a private residence and not open to the public although it has been featured on an annual pilgramage.

Col. William Polk's third son, Lucius, built the house for his bride Mary Ann Eastin, whom he married in the White House while Andrew Jackson was President. His bride was the niece of Jackson's beloved wife Rachel, who had died shortly before her husband was inaugurated. Hamilton Place remained in the family until the 1970s. It is listed on the National Register of Historic Places.

Directions:
On US Hwy. 243, 1605 North Main Street

Source: Maury County Convention and Visitors Bureau
8 Public Square, Columbia, TN 38401
Call (888) 852-1860 or (931) 381-7176
Email to maurycvb@usit.net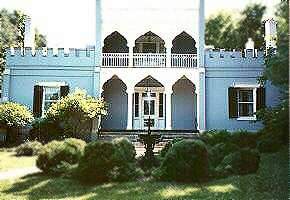 The Athenaeum:

This unique 1835 structure of Greek Revival, Gothic, and Moorish design in downtown Columbia served for 52 years as the rectory for the Athenaeum girls' school and the home of its president, the Rev. Franklin G. Smith.

In 1861, The Rev. Smith, a native of Vermont, organized the Maury Rifles (Co. B of the 2nd Tennessee Infantry) in which two of his sons served. Union Gen. Schofield made his headquarters here briefly in 1864.

The house is now maintained by the Maury County Chapter of the Association for the Preservation of Tennessee Antiquities (APTA).

It serves as tour headquarters for the Majestic Middle Tennessee Fall Tour held the last full weekend of September.

Details: The Athenaeum Rectory
808 Athenaeum St., PO Box 942
Columbia, TN 38401
Call (931) 381-4822.
Admission charged.
Open Feb. through Dec., Tues-Sat., 10-4; Sun., 1-4.
Closed last week of December and all of January.

Directions: From I-65 south, take Saturn Parkway (Exit 53) to Hwy. 31 South (take Columbia exit from Saturn Pkwy.). Drive 8 miles into Columbia to West 7th St. and turn right. Go several blocks to Athenaeum Street on the left. House is at end of street.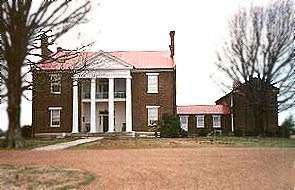 Elm Springs:

This mansion was restored and is now used as the National Headquarters for the Sons of the Confederate Veterans. The home was built in 1837. During the war, it was the home of Abram Looney, who served as the Colonel of Company H, First Tennessee Infantry. He was an outspoken Southerner and this almost resulted in the loss of Elm Springs.

In November, 1864, the Federal Army, which had occupied Maury County for several months, was preparing defensive positions ahead of the oncoming Confederate troops under Gen. John B. Hood. Their line of defense extended from the Mooresville Pike to the Mt. Pleasant Pike. One of the defensive tactics used was the destruction of important buildings along the line. Elm Springs anchored the eastern flank of their line. Many houses were burned during those days and Elm Springs was slated to be destroyed too. Fires were started that might have burned the house except for the opportune arrival of Confederate troops who extinguished the flames. You will still find the scorch marks in the hall closet.

Directions:
While traveling on Columbia Pike , coming from Mt. Pleasant, if you were to continue your drive onto Hwy 50 to Mooresville Pike (about 200 yards from intersection), you will find Elm Springs.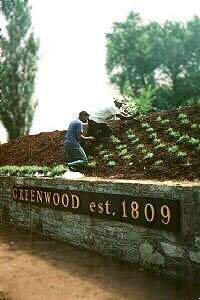 Greenwood Cemetery:

This cemetery was established in 1809, overlooking the Duck River. If you'll wander among the headstones, you'll see the damage caused to them by Cox's men, who from across the river, fired upon Stephenson's sharpshooters in an attempt to stop S.D. Lee's men from crossing the river. Looking down the steep embankment to the river, behind the cemetery, you'll wonder how Lee managed to get his pontoons into the water to cross the Duck here.

Directions:
Turning left on Hwy. 31 from Columbia Pike, you'll find a cemetery on your left.
---
Spring Hill
Located 12 miles south of Franklin, Tennessee, Spring Hill has been nothing more than a paragraph in our history books and a small town the armies marched through during Hood's 1864 Tennessee Campaign. But with the publication of Wiley Sword's: "Embrace An Angry Wind," the controversial events that took place in Spring Hill have sparked a renewed interest among historians and preservationists.
On November 29th, 1864, General John Bell Hood's Army of Tennessee attempted to flank a portion of General George Thomas's Union army, The Army of The Tennessee, in Spring Hill. A Confederate division under command of General Patrick R. Cleburne, along with General Forrest's cavalry, attacked the Federals here in the late afternoon and routed a part of the Federal forces. But due to a puzzling and controversial chain of events, General John M. Schofield and his 23,000 Union soldiers managed to squeeze through the trap that Hood had set, and had retreated to Franklin on the morning of November 30th, where a costly battle was fought between the two armies.
For over 100 years it was believed that nothing more than a skirmish took place here, with virtually no casualties. But with the publication of Alethea Sayer's book: "The Sound of Brown's Guns; The Battle of Spring Hill," facts indicate that the numbers involved in this battle exceeded over 10,000 with combined casualties of 850. In 1995, The Spring Hill Battlefield Preservation Council, with financial aid from the APCWS and CWT, was able to acquire the 110-acre site of the battlefield here. It has remained farmland since the Civil War, as pristine as it was when the battle was fought. Now, there's much more to see in Spring Hill since Maury County and the automaker giant, The Saturn Corporation (located just south of town), teamed up to double the efforts of local historic preservation.
Even before Hood's 1864 Campaign, Spring Hill was known as the place where Confederate General Earl Van Dorn was murdered in 1863. Below, check out sites to see in this small southern town that will definitely make your visit here worthwhile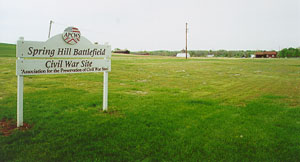 Spring Hill Battlefield:
A 110-acre battlefield site, located off of Highway 51 and Saturn Parkway on Kedron Road, where General Cleburne commanded the last battle he was to survive. It was here that Union General Luther P. Bradley's Brigade was routed and suffered 350 casualties in their attempt to keep Hood's army from capturing the town and the Union's 800 wagons.
Details:
A full-color brochure "Guide to the Spring Hill, Tennessee Battlefield," which contains a detailed map and account of the battle plus a nine-stop driving tour, can be obtained by contacting the Middle Tennessee Visitors Bureau below.
Source: Middle Tennessee Visitors Bureau
8 Public Square, Columbia, TN 38401
Call (931) 381-7176 or (888) 852-1860
Email to maurycvb@mauryco.org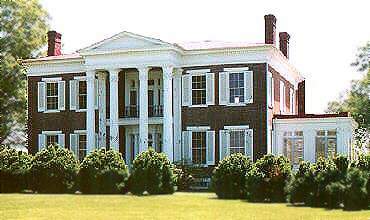 Rippavilla Mansion:
Rippavilla Plantation on Hwy. 31 in Spring Hill was built in 1853 by Nathaniel Cheairs and has been restored to its 1860s grandeur. The most remarkable features are its furnishings, including many family heirlooms, and the classic Greek Revival architecture.
During the Civil War troops on both sides camped here and fought part of the Battle of Spring Hill on its grounds. Both Union and Confederate generals used the plantation as their headquarters.
Special events, including tours, concerts, festivals, and living history weekends are held throughout the year. The mansion and grounds may be rented for weddings and other special functions.
History:
Rippavilla Plantation was built in 1853 by Nathaniel Cheairs, who served as a colonel in the Confederate army and personally carried the surrender flag in February 1862 at Fort Donelson.
While Col. Cheairs lanquished in a Union POW camp, Gen. William "Bull" Nelson spent the night at the plantation enroute with his troops to Shiloh. Col. Cheairs was paroled in August 1862 and served as a volunteer aide to Gen. Nathan Bedford Forrest in March 1863 when his troops camped there. Later that year, Col. Cheairs was captured trying to sell cattle to the Confederates and served time at Camp Chase, Ohio.
On Nov. 29, 1864, Union forces under Gen. Schofield slipped past encircled Confederate forces at Spring Hill. The next morning, Confederate Gen. John Bell Hood and his officers ate breakfast at Rippavilla. Hood lashed out at Gens. Patrick Cleburne and Benjamin F. Cheatham for allowing the Yankees to escape his trap.
Later that day, to the north, Hood ordered a suicidal frontal assault at Franklin which resulted in the deaths of Cleburne and four other generals who had attended the breakfast—States Rights Gist, Hiram B. Granbury, Otho F. Strahl, and John Adams.
It is said that several generals autographed window panes at Rippavilla that morning with a diamond ring. One existing pane bears a signature that apparently belongs either to Gen. B.F. "Frank" Cheatham or Gen. Frank Armstrong.
Rippavilla was modeled after nearby Ferguson Hall, owned by Nathaniel Cheairs' brother Martin, where on May 7, 1863 Confederate Gen. Earl Van Dorn was killed by a jealous husband.
Rippavilla features a front portico with two-story columns, a brick courtyard with fountain, a grand entrance hallway and staircase, spacious high-ceilinged rooms, and a relatively modern sunroom addition.
In the 1980s the Saturn corporation bought the property (its carmaking plant is nearby) and in 1994 donated it to Maury County for use as a vistors center.
Details:
Rippavilla Plantation
5700 Main Street, Spring Hill, TN 37174
Call (615) 486-9037 or (800) 381-1865
Admission charged. Group rates available.
Mansion and gift shop are open for guided tours
Tues.-Sat., 9-5 and Sun., 1-5. Last tour begins at 4 p.m.
Directions:
Rippavilla is located near Nashville just south of Spring Hill on Hwy. 31. From I-65 South, take Saturn Parkway (Exit 53) to Columbia exit. Turn left and entrance is 100 yards on the left.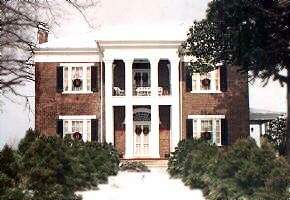 Oaklawn Mansion

Gen. Hood's HQ at Spring Hill battle:

This private residence (1835) on Denning Lane in Spring Hill was the home of Absolum Thompson and headquarters for Confederate Gen. John Bell Hood the night of Nov. 29, 1864. During the night, the encircled Union army inexplicably slipped through the Confederates' grasp and escaped on the Columbia Pike to Franklin. Legend has it that Hood was drunk or incapacitated by painkillers that night, but modern historians dispute that theory.

Historical marker: Hood's Command Post (Nov. 29-30, 1864)
Gen. Hood and staff spent the night in the Absalom Thompson House, 2.8 miles. Advance units of his army, moving by country roads, had contacted Federal units at Spring Hill, but had not gained control of the road to Nashville. In the morning, Hood found that Schofield had eluded him and was enroute to Franklin.

Details:
Oaklawn is a private residence and not open to the public.

Directions:
U.S. 31, Maury County, 3 miles south of Spring Hill

Source: Tennessee Historical Commission

Ferguson Hall: Martin Cheairs Home:

Confederate general murdered here:


The Spring Hill home of Martin Cheairs was built about 1854. Rippavilla, the home of his brother, Nathaniel, was built nearby in a very similar design.

Ferguson Hall, now the Tennessee Children's Home, is famous as the site of the May 7, 1863 murder of Confederate Gen. Earl Van Dorn. He was shot by Dr. George Peters after rumors circulated that Gen. Van Dorn had been keeping company with the doctor's wife, the former Jessie McKissack, while the doctor had been away. Dr. Peters eventually was arrested by Confederate authorities in Mississippi, tried, and acquitted. The doctor filed for divorce in 1866, but the couple reconciled two years later and moved to Memphis.

Details: Ferguson Hall is located in the heart of Spring Hill. It now serves as a children's home is not open to the public.

The McKissack Home:

The girlhood home of the infamous Jessie McKissack Peters, who was said to have been the woman responsible for General Van Dorn's death.

This was also the home in which Union General Thomas Schofield discussed the surrender of his army to General Hood on November 29th 1864. It is located on Highway 51

The Spring Hill Cemetery:

There is a stone erected here by the local UDC chapter, which is dedicated to ten unknown soldiers of the Battle of Franklin. Recent research indicates that it could also contain some of the unknown casualties of the Battle of Spring Hill.
---