---
Home
---
Georgia Woman of Achievement Award: Mary A. H. Gay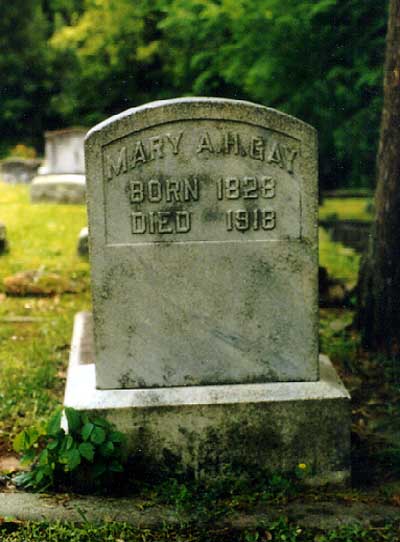 Mary Gay was an ardent Southern sympathizer who would have preferred going into battle to
the homefront hardships she described in her 1892 book, Life in Dixie During the War. "If I could have, I would have joined the army and fought. But I did all that I could." That was plenty. It included outsmarting the Yankee general whose troops camped on her lawn during the siege of Atlanta so that she could smuggle goods and information to Confederate forces, and walking miles to exchange the lead gathered from battlefields for food with which to feed the women and children left without provisions by Sherman's evacuation.
A woman of conviction and determination, Mary Gay was born in Milledgeville in 1829. Her father died when she was very young so she and her mother moved to Decatur. Her mother married a second time, had two more children and was widowed again. Although the family was fairly well do to before the Civil War, as enthusiastic supporters of the Southern cause, they invested all their cash in Confederate bonds which left them in straightened circumstances after the war. They were also in mourning; a brother died in battle and her mother succumbed soon afterwards.
"Miss Mary," as she had come to be known, soldiered on. With her brothers' widow, child, and half sister to support, she decided to republish her 1858 book, Prose and poetry by a Southern Lady, selling it herself, door to door, to earn their living. Newly titled The Pastors Story, it was, according to her biographer, "a hodge-podge of melancholy, girlish poetry and morally uplifting essays" that she had collected over more than a decade. Portions of it were lampooned by Mark Twain in Tom Sawyer. But the indignant Miss Gay, who called him a "literary humbug" in the preface to a later edition, saw her book go through eleven editions, and (due at least in part to her perseverance and tenacity in marketing it), financially provide for her small family during the difficult years of Reconstruction.
Her efforts were directed at providing for more than her own relatives however. In addition to helping the women and children of Decatur survive, she undertook to secure funds for several major projects. A devout Baptist, Miss Gay raised the money to build a postwar building for the Baptist congregation of Decatur by soliciting friends in Kentucky and Maryland, areas less ravaged by the war. That success led to her commissioning as a fundraising agent by the Baptist church; as such she traveled the South for thirty years. On one trip she was appalled to see cows trampling unmarked graves on the field where her brother and others had died in service to the Confederacy, and immediately set about raising the money necessary to mark the graves and fence the field. She also raised funds for numerous Confederate memorials and helped to organize a local chapter of the United Daughters of the Confederacy.
But it was the book she wrote for her nephew, that he might appreciate the father he never knew, which brought her the most renown. One of only a few such histories penned by a woman, Life in Dixie During the War tells how, after her refusal to leave her home when Union cavalry set up camp outside for three months and commandeered her parlor for Union Headquarters, a federal officer declared, "I glory in your spunk and am proud of you as my countrywoman." There are many good stories in the book and Margaret Mitchell drew upon some of them when she wrote Gone With the Wind forty years later.
The end of Mary Gay's life was marred by a multi-year struggle with failing health. She died at eight-nine and is buried in Decatur. For her faith, courage, energy and accomplishments, we take pride in naming Mary Ann Harris Gay a Georgia Woman of Achievement.
Georgia Women of Achievement
Sixth Induction Ceremony
Macon, Georgia
---
From: "The Siege of Atlanta, 1864" By Samuel Carter III
"Mary Gay's half brother Lt. Tommy Stokes sent his regiments extra supplies to her in Atlanta for safe keeping 4 months before and had requested them before the winter months. She had just smuggled them through union lines"
Mary Gay told the story of her mission to the Confederate Officer of the day. He did not belive her. She invited him to inspect the sacks of army material she had smuggled with her on the the train. He slit one open with a knife, saw the familure gray of uniforms, coats and blankets and promptly went in search of General Geary's camp where Mary's half brother, Tommy Stokes was bivouacked.
Shortly she was with her half brother, Lt. Stokes in Gearys camp and the sacks of Confederate supplies were gratefully received. That night she slept in a tent with a buffalo robe and over coat for bedding, and Tommy awoke her at dawn for roll call. Why she should be at roll call was a question quickly answered, as gearys regiment lined up , row upon orderly row, an order was went down the ranks, a signal was given , and eight hundredmen gave three lusty cheers for Mary Gay, heroine of the Army Of Tennesee.
Years later ... Mary Gay, seemingly paler and more fragile than a year before, saw and heard " the quiet closing, one by one of doors" There was no sympathy for the small brunett who had lost a beloved half brother, Tommy Stokes "He died at the Battle of Franklin". But she had been to friendly with the yankies. She had used her feminine wiles and her Yankee connetions top travel behind enemy lines, often bearing strange bundles of suspicious nature. And her home had been spared much of the damage inflicted upon others. As it was the neighbors left her alone and she in turn rarly left the vacant house. she had no friends, no lovers, and only occasional vists from her sister to relive the loneliness of her declining years.
With Tommy gone , She never wanted to betray the trust he had imposed upon her , she never saw no reason to explain that her overt chumminess to the enemy had been a means of preserving and carring provisions to the Army of Tennessee. she who had been roundly cheered by an entire regiment of that immortal army needed no further reasurance of her loyalty, her service to the cause. What others thought mattered little now. Nothing mattered very much; and in this deserted house with little more than memeries for comopany, Mary spent the waning years in finishing her diary and in writing poetry for her own diversion.
The stern self righteous woman of decatur never softened their opinion of her , never lifted the pressure of the contempt. And Mary , for her part , never crumbled under the persecution, any more than she yielded to the trials of the cruel war she had helped to fight Growing bent, old and Crippled she survived well into another century dying in 1918 at the age of 89 ..